Recipe: Vegan Protein Waffles
K
Waffles are a popular breakfast food, but unfortunately, healthy vegans have two main problems with them: 1) they are usually unhealthy, and 2) are typically made from off-limit animal products, specifically: eggs and milk. After a few trial batches, I've finally settled on a healthy, vegan and simple recipe that's delicious, nutritious and free of any animal products.
Healthy Vegan Protein Waffles
Waffles are typically loaded with sugar, saturated fat and animal products making them a no-no for anyone trying to follow a healthy vegan diet. This recipe gets rid of the bad parts of the waffle leaving a healthy breakfast or snack loaded with fiber, protein and omega 3 fatty acids.
Waffle Nutrition Facts
This recipe makes two big waffles. Each single waffle contains the following (numbers in parenthesis are for the entire recipe):
244.5 calories per waffle (489 calories for the entire recipe)
5.05 grams of fat (10.1g)

1.4 grams of omega 3 fatty acids (2.8g)

27 grams of carbohydrates (54g)

65 grams of fiber (13g)
4 grams of sugar (8g)

22.58 grams of protein (45.1g)
But who eats their waffles plain? My favorite topping is Peanut Butter & Company's Dark Chocolate Dream PB
. This vegan peanut butter is much lower in sugar than other chocolate/nut spreads (7 grams of sugar per 2 tablespoons compared to 21 grams for the same serving of Nutella) and makes a great topping.
Each waffle needs ~1.25 tablespoons of peanut butter for an even coating. When you add the dark chocolate peanut butter, here's what you get (waffle calories from above plus 1.25 tablespoons of dark chocolate – does not include banana calories):
350.5 calories (701 calories for 2 waffles)
13.15 grams of fat (26.3g)
34.5 grams of carbohydrates (69g)

7.7 grams of fiber (15.4g)
8.15 grams of sugar (16.3g)

26.35 grams of protein (52.7g)
As pictured above, a medium banana adds 105 calories, 0g of fat, 27g of carbohydrates (3 grams of fiber, 14 grams of sugar) and 1 gram of protein.
Ingredients
2 tablespoons of ground flaxseeds
1/2 teaspoon of baking soda
1/2 cup of soy milk (for flaxseed mixture)
1/2 cup of 100% whole wheat flour
another 1/2 cup of soy milk
1 scoop of flavored protein

The type of protein powder you use is very important. This recipe contains very little sugar. All the flavor comes from the protein powder or topping (syrup, peanut butter, chocolate peanut butter) you use. My recipe uses chocolate-banana flavored soy protein from True Nutrition.

non-stick spray
Special Equipment
Waffle makers are fairly inexpensive. This Oster Waffle Maker cost less than $30 and has never given me any problems. It's easy to clean and even easier to operate.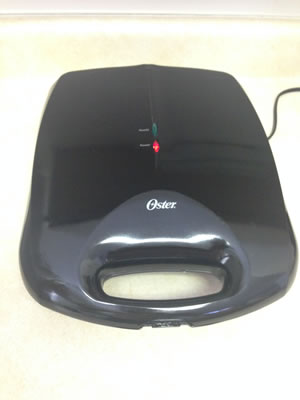 Directions
Step 1: Combine 2 tablespoons of ground flaxseeds and 1/2 teaspoons of baking soda with 1/2 cup soy milk. Let the mixture stand for 1-2 minutes while it thickens. The mixture will begin to resemble a gel once it's thickened.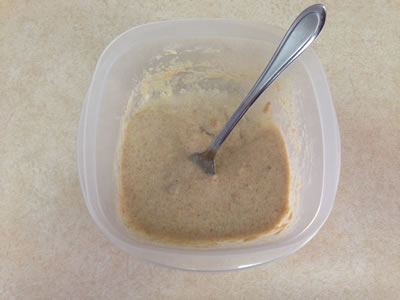 Step 2: Add 1/2 cup of flour, 1 scoop of protein powder and the second 1/2 cup of soy milk to the flax seed mixture.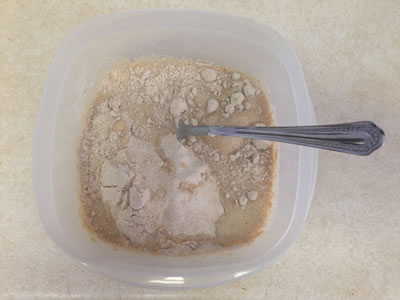 Step 3: Mix the ingredients with a fork until they form a thick paste. Ensure all the dry ingredients are fully incorporated into the mixture.
Step 4: Preheat the waffle maker and apply non-stick spray.
The Oster brand waffle maker I use doesn't have any features. I simply plug it in and wait for the "ready" light to turn on. Check your manual for directions on how to preheat your specific model. Once your waffle maker is preheated, apply a non-stick spray to two of the four cooking surfaces (both top and bottom).
Turned on: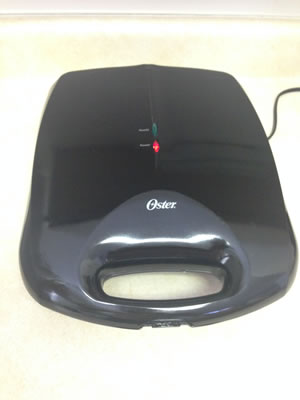 Preheated: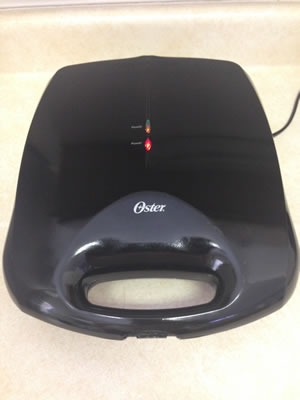 Step 5: Load the waffle batter onto the waffle maker and spread it out evenly with a fork until it covers two out of the four cooking surfaces.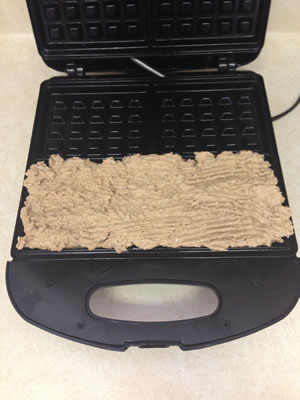 Step 6: Close waffle maker and wait.
Cooking times will vary by waffle maker; 8-10 minutes should suffice for most models. Generally, once the steam stops rising from the waffle maker, the waffle is ready to eat.
Are waffles healthy?
Waffles are generally unhealthy because they are made with refined flour, sugar, butter, eggs and dairy. The result is a waffle high in saturated fat, refined carbohydrates and sugar while low in nutrients such as vitamins, minerals and fiber.
I try to find ways to make unhealthy but delicious foods in a healthy way while preserving taste. These waffles aren't as sweet as regular waffles but I've gotten used to them. The dark chocolate peanut butter, banana and flavored protein powder provide ample taste.
This recipe uses 100% whole wheat flour, flaxseeds, soy milk, protein powder and no added sugar. The result is a waffle low in saturated fat, simple carbs and sugar while rich in nutrients, such as fiber, omega 3 fatty acids, vitamins, minerals and heart healthy soy protein.
This is my go to post-workout meal as it contains enough carbs and protein to fuel the recovery process. The banana provides some much needed post-workout sugar to replenish what was burned. These waffles fill me up for a much longer period of time than my protein shake ever did and they taste much better.
Substitutions & Additions
Flour. Jumping into 100% whole wheat flour after a lifetime of eating refined/white flour can be a bit of a challenge at first. The more you eat it, the more you'll realize how much of a fake food white flour really is. Whole wheat flour has more structure and texture which overtime, you'll begin to appreciate. If this waffle tastes too grainy for you at first, consider blending 1/4 cup of 100% whole wheat flour with 1/4 cup of white flour to help smooth out the texture and make the transition to healthier ingredients easier to handle.
Waffle Mixes. There are also a few waffle mixes that are low in sugar and high in fiber. The only healthy AND vegan friendly one I found was Aunt Jemima's Whole Wheat Blend Pancake & Waffle Mix. Each 1/2 cup serving contains 6 grams of fiber and 8 grams of sugar, which for a commercial waffle mix, is pretty good (though not as good as using whole wheat flour). If you're following a strict vegan diet, read the ingredient list as most mixes are made with dairy.
Sweeteners. This recipe doesn't contain any sugar other than the small amount found in the soy milk and toppings. If you want your waffle to have a sweeter taste, add some sugar during step three. Each tablespoon of sugar contains about 50 calories; use it sparingly. Another option is to use calorie-free sweeteners.
Topping Suggestions
Some healthy/vegan waffle toppings include: plain peanut butter (creamy or chunky), flavored/chocolate peanut butter, 100% pure maple syrup and Justin's Hazelnut/Almond Chocolate Spread
(delicious but very expensive). The only limit here is your imagination.
Another great topping is vegan chocolate hazelnut butter (homemade Nutella).
Enjoy!