Recipe: Vegan Chocolate Hazelnut Butter (aka Homemade Nutella)
Ken Bendor
Nutella has been a staple in my diet for as long as I can remember. Those "chocolate sandwiches" kept my taste buds satisfied for a big chunk of my life. Giving up animal products is the only reason I ditched Nutella, not the ridiculously high sugar content, lack of nutrients or its crack-like addictive qualities. There are vegan alternatives for Nutella but they tend to be pricey and somewhat hard to find. I finally bought a food processor, hazelnuts and dark chocolate and created my own vegan chocolate hazelnut butter aka Homemade Nutella.
Homemade Nutella
Millions of people enjoy Nutella as a delicious, yet somewhat unhealthy snack. Nutella goes great on a wide variety of foods including, but not limited to: fruits (maybe even vegetables), bread, bagels, waffles or even straight out of the jar.
How much does this taste like Nutella?
Nutella is described as a "hazelnut spread." Before I started making my own "Nutella", I never tasted a hazelnut. I assumed the nut contained a Nutella-filled center. Once I finally tried them, I realized describing Nutella as a "hazelnut spread" was somewhat misleading.
Nutella is more of a sugary milk chocolate spread with a hint of hazelnuts. Nutella's first ingredient is sugar, followed by palm oil, and finally, hazelnuts. Ingredients are listed on a food label in descending order of prominence. From the FDA: "the ingredient that weighs the most is listed first, and the ingredient that weighs the least is listed last." Hazelnuts should be the main ingredient in hazelnut spread, not sugar or palm oil. Unfortunately, hazelnuts are too expensive and and healthy for Americans to prefer over sugar.
This chocolate hazelnut butter is made mostly out of hazelnuts and dark chocolate. Its sugar content is much lower than Nutella's. Once you try this recipe, you'll realize Nutella is more of a spreadable milk chocolate bar rather than a chocolate hazelnut spread.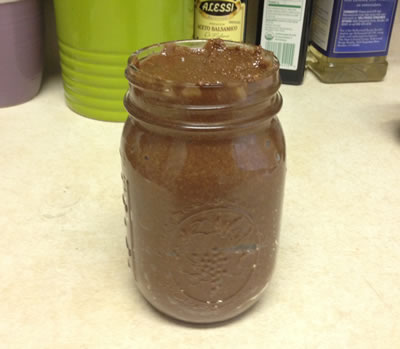 Nutrition Facts
This recipe makes 17 servings (2 tablespoons per serving, 34 tablespoons total). Each 2 tablespoon serving contains:
Calories: 201
Fat: 17.1 grams
Carbohydrates: 11 grams

Sugar: 6.5 grams
Fiber: 3.1 grams

Protein: 4 grams
As a comparison, a 2 tablespoon serving of Nutella contains:
Calories: 200
Fat: 12 grams
Carbohydrates: 21 grams

Sugar: 21 grams
Fiber: 1 gram

Protein: 2 grams
Though both have the same amount of calories, the homemade version has more fat, protein and fiber while significantly lower in sugar. Nutella replaces hazelnuts, that are rich in unsaturated (good/healthy) fat, fiber and protein, with sugar and empty calories; energy providing nothing in the way of nutrients.
Is this healthy?
There's a difference between healthy foods and foods conducive for weight loss. This chocolate hazelnut butter is very energy and nutrient dense: high in calories and nutrients. Like all nut butters (peanut butter, almond butter), hazelnut butter contains a lot of calories which doesn't necessarily mean unhealthy.
Hazelnuts, along with all nuts, are high in unsaturated fats. Unsaturated (healthy) fats decrease the risk of heart disease. This recipe is also low in sugar (6.5g per serving) while high in fiber. It also contains twice the protein found in Nutella. The dark chocolate is high in antioxidants which protect against cancer.
Dark chocolate is high in saturated fat which is known as the unhealthy/bad fat because it tends to raise LDL (bad) cholesterol levels. Not all saturated fats are equal. The type of saturated fat found in chocolate is called stearic acid. Stearic acid is a type of saturated fat that does not raise cholesterol levels. The amount of saturated fat found in chocolate is not a health concern.
Here's an article from Harvard Health on the benefits of dark chocolate: Chocolate and your health — guilty pleasure or terrific treat?
If you're on a weight loss diet, this recipe might contain too many calories. Though this chocolate hazelnut butter is high in calories, it's both healthy and delicious.
Required Equipment
This recipe requires a food processor. The one I used and pictured below is the Black & Decker FP2500B 10-Cup Food Processor
. A smaller and less expensive one would also do the trick. Search Amazon for food processors
.
This recipe also requires:
small saucepan for melting the chocolate
measuring cups & spoons
jar for storing finished product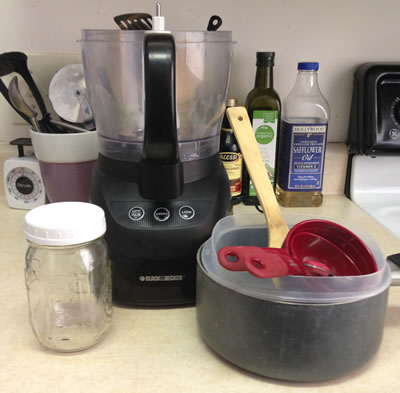 Ingredients
3 cups of blanched, roasted hazelnuts

It's much easier to buy roasted/blanched rather than raw and/or unblanched hazelnuts. The hazelnuts must be roasted before processing.
If you buy raw hazelnuts, you'll need to roast them yourself. The process isn't overly complicated, but buying them already roasted saves time and creates a more consistent taste through different batches.
Blanching is the process of removing the skins. Unblanched hazelnuts come with the skins. The skins need to be removed before making hazelnut butter. The process of removing the skins yourself is time consuming.
The best route to take when buying hazelnuts is to get them roasted, blanched and unsalted.
Buy: Roasted, blanched and unsalted hazelnuts
Buy: Raw, blanched hazelnuts

24 pieces (80 grams) of Green & Black's Organic Chocolate Bar, Dark 70% Cocoa

While this bar is not made with any dairy products, it is manufactured on equipment that also makes dairy products. If you're a strict vegan, this chocolate might not be suitable for your lifestyle.

3 tablespoons of white granulated sugar
3 tablespoons of 100% pure maple syrup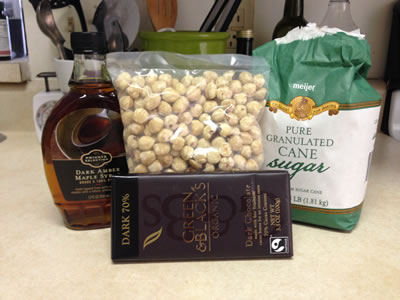 Directions
Step 1: Place 3 cups of hazelnuts into the food processor and turn it on.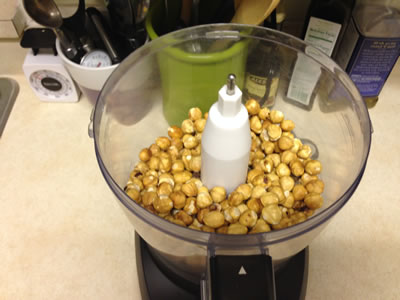 Step 2: Scrape the hazelnut particles off the side of the food processor. The transformation from whole hazelnuts into hazelnut butter happens in stages. First, the whole nut is processed into a crumb-like consistency. These crumbs tend to 'climb' up the side of the food processor and get stuck. When this happens, turn off the processor, scrape the crumbs off the sides and restart the processor. This will happen a few times. Each time you stop the processor to scrape, the dry crumbs become more of a wet paste, and over time, a smooth butter.
Scrape: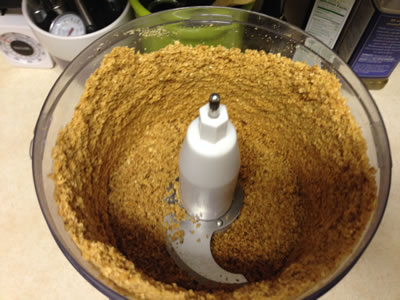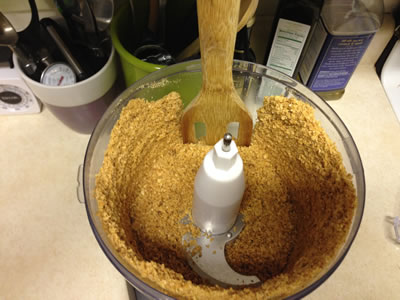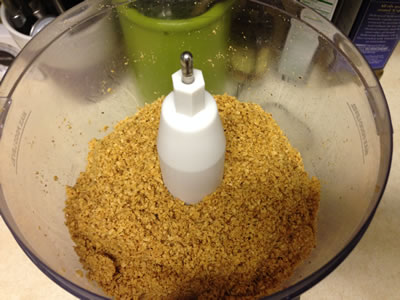 Scrape Again: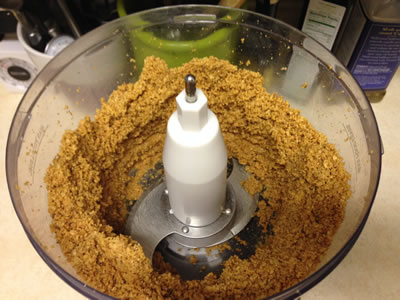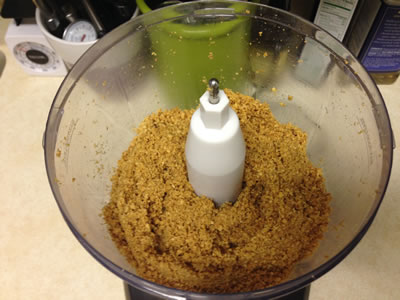 Almost There:
Eventually the hazelnut crumbs turn into a wet paste. You're almost there!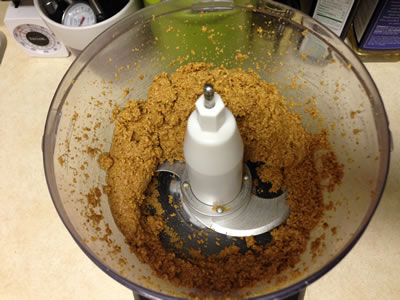 Just a Little More:
Eventually, the paste becomes more fluid. Once this happens, the hazelnuts' transformation into hazelnut butter is almost complete. Give the food processor a few more minutes.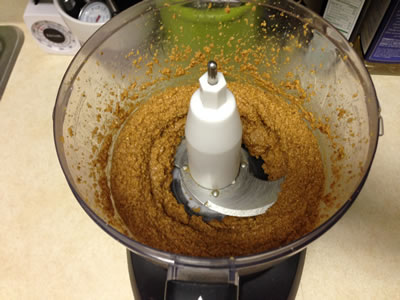 Hazelnut Butter:
Once the hazelnuts reach a silky smooth consistency, you have hazelnut butter. Hazelnut butter is a pretty tasty snack, but it's no Nutella. At this point, we're ready to add the rest of the ingredients.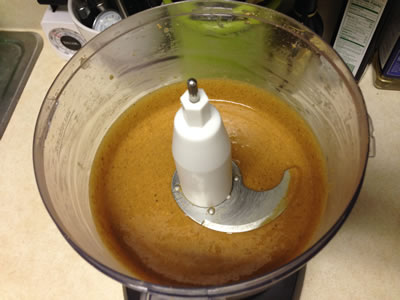 Step 3: Melt the chocolate. Break up the chocolate bar and place it into a small saucepan over low heat. This step can also be accomplished simultaneously with step one.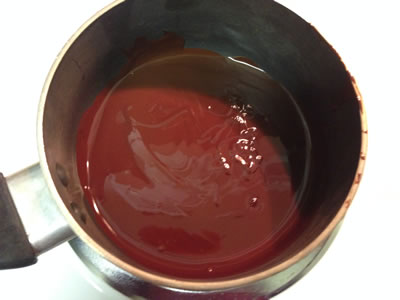 Step 4: Combine the chocolate and white sugar with the hazelnut butter. Turn the food processor on.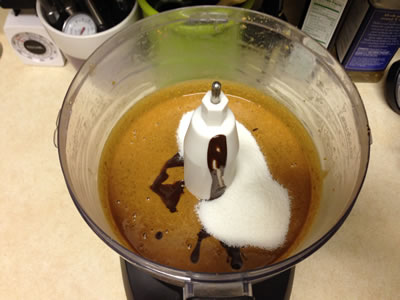 Once the hazelnut butter turns chocolatey-brown, add the maple syrup with the processor running. Maple syrup thickens the mixture. Avoid adding too much. I've found 3 tablespoons is the limit before the hazelnut butter loses its spreadable quality.
Finished Product:
Step 5: Place the finished product into a jar or other storage medium. This recipe makes a little over 2 cups of chocolate hazelnut butter. The jar pictured below has a 2 cup capacity. You can either use multiple jars, buy bigger jars or make a snack out of the extra. I prefer the latter.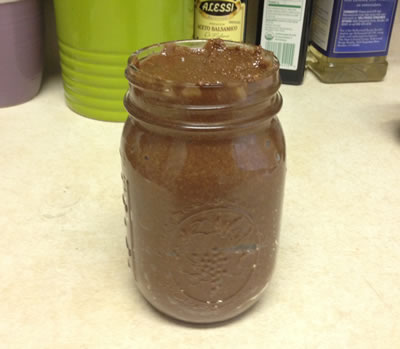 Substitutions & Additions
There are plenty of changes you can make to this recipe. If you want a more powerful hazelnut taste, use less chocolate and/or more hazelnuts. Dark chocolate overpowers other flavors. You can also use a lighter chocolate, 70% is pretty dark and takes a bit of time to adjust to.
If you prefer a more or less sugary chocolate hazelnut butter, change the amount of sweetener. Avoid using too much maple syrup or other liquid sweetener (honey, agave nectar). From my experience, using more than 3 tablespoons makes this chocolate hazelnut butter too thick to spread.
Serving Suggestions
Chocolate hazelnut butter can be used on a wide variety of foods: fruit (especially bananas) bread, bagels, oatmeal and as a waffle topping. You can also eat it straight out of the jar; watch out for those calories!
Shelf Life
I can't comment on how long this recipe can survive as it's never survived more than a week before I had to make another batch. If you need to store it for longer than a week, refrigerate it (though it'll be difficult to spread before it comes back to room temperature).
Storage
Though natural nut butters tend to separate into a solid and oil at room temperature, the chocolate in this recipe keeps the hazelnut butter mostly solid at room temperature (chocolate is solid at room temperature). Storing this chocolatey mixture in the refrigerator makes it way too solid and difficult to spread.
Enjoy!