Recipe: Roasted Hazelnuts
K
I recently bought a food processor and started experimenting with homemade nut butters. Since I grew up on Nutella, I decided to try and make a chocolate-hazelnut butter. Unfortunately, I accidentally bought raw instead of roasted hazelnuts. Nut butters (peanut butter, almond butter…) are made from roasted, not raw nuts. Before processing into a nut butter, the nut should be roasted. The process of roasting hazelnuts is fairly simple.
Required Equipment
shallow baking pan – pizza and cookie pans work great
parchment paper
Ingredients
blanched raw hazelnuts

Once a nut is taken out of it's shell, it's still enveloped in a skin. Blanching is the process of removing the skin. Skin on a hazelnut used for snacking isn't much of a problem. When used for making hazelnut butter, the skin gets in the way and produces an unpleasant texture. Hazelnuts destined for processing into hazelnut butter should be skin-free.
You can use unblanched hazelnuts but you'll need to remove the skins after roasting which is a time consuming and somewhat difficult process. If your hazelnuts are unblanched, put the nuts between a few layers of paper towels and rub the nuts together until the skin falls off.
Getting your hands on hazelnuts isn't as easy as buying peanuts or almonds. I haven't run into any hazelnuts at normal grocery stores. If you're lucky enough to live near a health/natural food store, you can pick them up there. Otherwise, Amazon is a great source.
Hazelnuts Blanched Raw, 3Lbs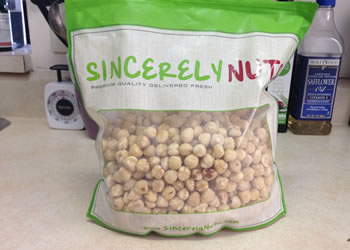 Directions
Step 1: Preheat the oven to 290 degrees. This temperature may vary based on oven model. It's better to start low and increase roasting time rather than starting high and burning the nuts.
Step 2: Line the backing pan with parchment paper.
Step 3: Place the desired amount of raw hazelnuts onto the pan in a single layer.
Step 4: Place the pan into the oven once it his preheated.
Step 5: The nuts need a total of 35 minutes at 290 degrees to properly roast. If you leave them in the oven for the full time, one side gets burned. Every 10 minutes, remove the pan, shuffle the hazelnuts around and place them back into the oven.
10 minute mark: remove pan from oven, shuffle hazelnuts around, place pan back into oven
20 minute mark: again
30 minute mark: one more time
35 minute mark: done
Roasted:

Step 6: The hazelnuts won't taste just right when they're still hot. Let the hazelnuts stand and cool before using them.
Enjoy!