Recipe: Chocolate-Peanut Butter Granola
Ken Bendor
Granola is an excellent breakfast food or snack that when made with the right ingredients is delicious, healthy and provides your body with all the nutrients it needs to get through a workout or start the day off right. This chocolate peanut butter recipe is quick, cheap, nutritious and delicious.
Ingredients
1/8 cup of canola oil

Carefully measure out 1/8 cup. Adding too much will cause the oats to burn in the oven.

2-4oz chocolate bars

Dark chocolate is much healthier than milk chocolate. It contains less sugar, more fiber, antioxidants and nutrients. Unfortunately, milk chocolate tastes a lot better. Instead of using two dark chocolate bars, start by combining one of each. Dark chocolate also comes in varying degrees of cocoa content. The higher the percentage, the more cocoa it contains (healthier but an acquired taste). Start by using one of the lower cocoa content dark chocolate bars (60-70%) and work your way up. Once you get used to the taste of dark chocolate, you can ditch the milk chocolate.

1/2 cup peanut butter
1 cup ground flaxseeds
4 cups of oats (non-cooked old fashioned oatmeal)
Step 1: Combine Wet Ingredients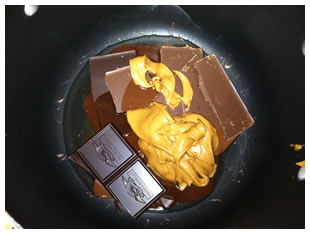 In a pot over low heat, combine the two chocolate bars, 1/2 cup of peanut butter and 1/8 cup of canola oil. Once the chocolate has melted, stir until all of the ingredients are mixed together.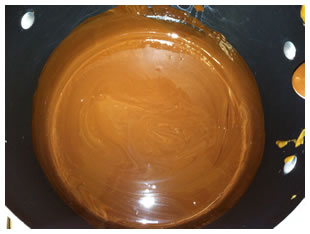 Step 2: Add Dry Ingredients
Add 4 cups of oats and 1 cup of ground flax seeds into the pot. Stir the oats and flax seeds with the melted mixture until they are evenly coated with the chocolate peanut butter goodness.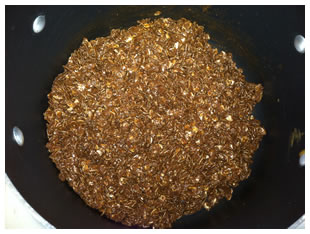 Step 3: Spread Onto Baking Sheet
Evenly spread the chocolate peanut butter coated oats onto a baking sheet. Use parchment paper on the baking sheets for a non-stick surface.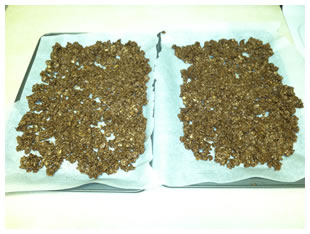 Step 4: Oven
Place the baking sheets in a 250 degree F preheated oven for 30 minutes.
Step 5: Enjoy
Nutrition Facts
This recipe makes about 12 servings. Each serving is approximately 1/3 cup.
Calories: 364
Fat: 20 grams
Carbohydrates: 37 grams
Protein: 12 grams
The Bottom Line
Though this snack is high in calories and fat, it is also loaded with fiber, vitamins, minerals, antioxidants and omega 3 fatty acids. The majority of the fat comes from the peanut butter, canola oil and flax seeds. These foods are high in unsaturated fats (partly omega 3 fatty acids) which can protect against cardiovascular disease. Though dark chocolate is high in saturated fat, it is mostly made up of a fat called stearic acid which is not associated with an increase in LDL cholesterol levels. Dark chocolate is an extremely healthy food which can protect against heart disease and even cancer.